5 Miami Dolphins moves we should see before free agency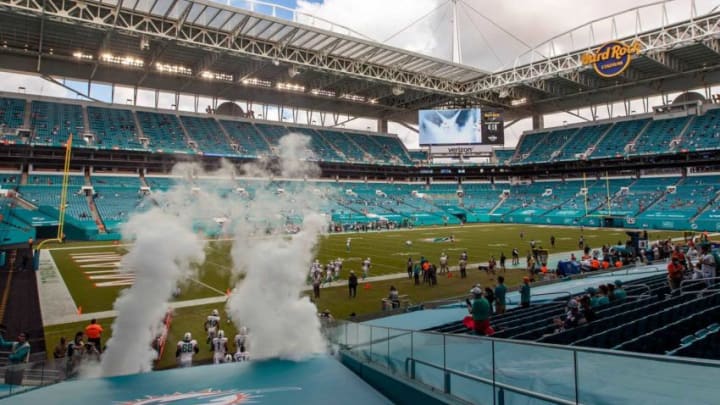 Miami Dolphins enter the field after the National Anthem at Hard Rock Stadium in Miami Gardens, October 18, 2020. [ALLEN EYESTONE/The Palm Beach Post] /
The Miami Dolphins can now focus completely on the next big NFL event, free agency. The start of the league year begins on March 17th and there is a lot of work to be done now that the Super Bowl is over and all teams get back to work.
We do now know that the Dolphins were not waiting on a playoff team to finish their season to hire an offensive coordinator but what will the Dolphins do between now and the middle of March? Here are five things to watch for in the coming weeks as the Dolphins get ready for 2021.
Free agents:
Miami has 18 impending free agents and while five of those are either restricted or exclusive rights free agents, 13 of them are unrestricted. The Dolphins won't sign all of them but the process will begin in the next few weeks.
All of Miami's ERFA players should get tenders. Miami like Jamal Perry, Nik Needham, and Calvin Munson so there is no reason to believe they won't be back at least through the off-season and camp. The restricted free agents are a different story.
Jake Rudock will likely get a tender but will Isaiah Ford? The Dolphins need to move on from Ford. He has had his time and now is just taking up a roster spot. I'm not sure that Ford can make the roster this year and he should be given an early shot to land somewhere else.
The 13 UFAs include a few starters. None, however, is as big as Ryan Fitzpatrick.
Ryan Fitzpatrick:
Fitzpatrick wants to play another season but frankly, I don't see that happening in Miami. There would simply be too much distraction and questioning. Fitzpatrick knows that he will not be the starter and won't be given a chance to compete against Tua Tagovailoa.
I'm not sure if there is any team out there looking to give Fitzpatrick a shot at seeing quality playing time and that could mean Fitzpatrick spends quite a bit of time waiting on a contract this off-season. He may wait to see if injuries play a role.
Xavien Howard:
Say what you want but do not summarily dismiss Howard being traded, maybe as early as the days leading up to the start of the league new year. Miami has a lot of money tied up in their corners and Howard is one of the best in the NFL. That also means that he will likely get Miami good compensation.
The problem with Howard is that last year may be the best he will be and if we learned anything from the Patriots, where Brian Flores cut his teeth, selling high can work out well.
More from Phin Phanatic
Jakeem Grant: 
Grant is due to count $4.6 million against Miami's salary cap and he isn't playing consistently enough for that kind of money. If the Dolphins did opt to either trade or release him, they would have all but $1.05 million of that number.
Grant is an electric returner but he hasn't been able to make a big impact in the receiving game that the Dolphins had hoped. He has to do better offensively if he remains.
Allen Hurns and Albert Wilson, Jr.:
No players are going to be punished for sitting out the 2020 season over health concerns but while that is true, they are not guaranteed their jobs back either. Hurns is set to make $2.8 million but his contract is such that he will count $2.1 million minus the money paid to him last year, against the cap. Conversely, Albert Wilson will count $5.1 million and the Dolphins would recoup $2.3 million minus the money paid in 2020.
The Dolphins have to decide if they will bring both or one of them back or neither of them. Wilson is a good candidate for release given his contract but he is also the better receiver of the two. Miami is expected to add receivers this off-season but that doesn't mean it will be at the expense of either of these two.