Maybe the Miami Dolphins shouldn't sign a free agent receiver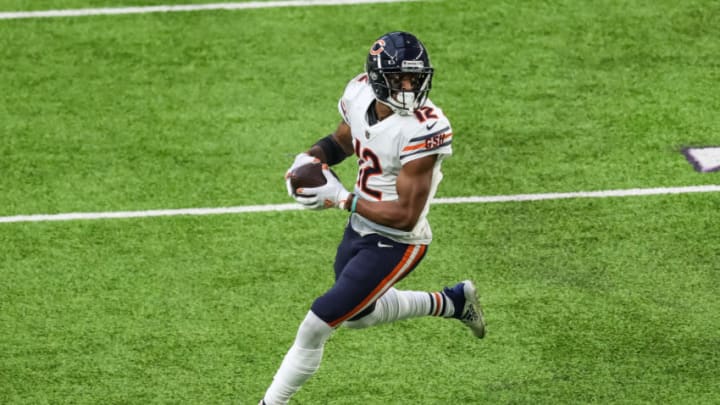 Dec 20, 2020; Minneapolis, Minnesota, USA; Chicago Bears wide receiver Allen Robinson (12) runs with the ball during the fourth quarter against the Minnesota Vikings at U.S. Bank Stadium. Mandatory Credit: Brace Hemmelgarn-USA TODAY Sports /
The Miami Dolphins are going to be in the market for a wide-receiver but maybe free agency isn't the way to go after all.
Consider that the Dolphins will have DeVante Parker, Allen Hurns or Albert Wilson, Preston Williams, and a likely early-round draft prospect. That is five players at the position and Miami may not keep more than that.
If we also look at Lynn Bowden, Jr. as a possible slot guy that makes six players. If the Dolphins opt to keep Jakeem Grant, we are at seven. We haven't touched on Mack Hollins or Isaiah Ford. Both of whom are likely not going to return.
The big question seems to be on the returns of both Hurns and Wilson. If both are kept, Miami will have more than enough receivers on the roster. They could look to bolster the unit by adding in free agency and many fans would love to see a potential Marvin Jones, Jr. or Allen Robinson addition but in reality, the money may not make it feasible.
I love the idea of getting better at WR and the thought of adding a JuJu Smith-Schuster, Marvin Jones, or a Chris Godwin is exciting. Add to that the prospects in the draft and the Dolphins could get really good quickly.
More from Phin Phanatic
Of course, that means we have to erase some of who we have currently. Jakeem Grant is a potential release. His production hasn't been what Miami should be hoping for in the passing game. Hurns or Wilson, Jr. are both potential cuts but one could stay. Hollins did a serviceable job last year but he isn't likely to hang around on the active roster and could be a practice squad player if he is eligible. Same with Kirk Merritt.
If the Dolphins starters and back-ups consist of Parker, Williams, a rookie, Bowden, and either Hurns or Wilson, where does a free-agent addition fit in and who gets the ax? Williams has shown a lot of potential but can't seem to stay healthy.
MIAMI GARDENS, FL – NOVEMBER 3: Preston Williams #18 of the Miami Dolphins celebrates after scoring a touchdown against the New York Jets during an NFL game on November 3, 2019 at Hard Rock Stadium in Miami Gardens, Florida. The Dolphins defeated the Jets 26-18. (Photo by Joel Auerbach/Getty Images) /
Miami can always find room and truth be told, looking at the roster, there is plenty of room to adjust and improve at the position. If Miami wants to go the FA route and the draft route, then I would expect Grant, Hurns, and Wilson to be gone opening up the roster for the two additions.
Miami's best option is, in my opinion, the draft. Jaylen Waddle, Ja'Marr Chase, DeVonta Smith all would make Miami's offense better and there are several other prospects as well that could make immediate impacts on the team.
At some point though the Dolphins are going to have to make early decisions with the unit if they plan to sign a free agent and still have the intention to draft a player early on day one or two. If the draft isn't a priority landing for a receiver on the Dolphins roster, then the free agency will be the priority to get better.